Active Directory Hardening Assessment
Find vulnerabilities in your organization's Active Directory.
If organizations are using Active Directory and have no visibility into whether best practices are being employed, it may be a huge benefit to have an assessment to determine where vulnerabilities exist, as well as learn how to fix them.
Our experts evaluate your Active Directory against the CIS standards to determine if measures need to be taken to better defend against attacks specific to Active Directory. 
You'll walk away with a full understanding of your security strengths and weaknesses, as well as recommendations  on how to remediate any issues found during our assessment. Consider us a true partner to help you bolster your defenses.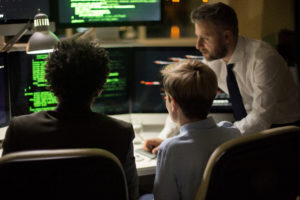 Active Directory Hardening Assessment Features:
Based on the Center for Internet Security's (CIS) Active Directory Security

Benchmark, and the underlying CIS Critical Security Controls & tool-based scanning

of the Active Directory environment

Antigen uses CIS-CAT Pro Scanner to assess operating system level hardening for

Domain Controllers

Industry leading and community driven hardening standards available for

import

Automated scanning using assessor

Output to CSV, HTML or TXT

Encrypted Credentials